Why share memories?​
Sharing memories of a departed loved one helps one cope with the loss and continue connecting through the memories. Theorists like Moody and Sasser (2015) suggest that "memorializing allows individuals to explore life's meaning." While theorist Cann (2014) sees the process as a "way of allowing people to authenticate their part in the mourning process." Other theorists like DeVries and Rutherford (2004), as well as Schwab (2004), see the potential of memorializing those we love as a way of "preserving our relationship with them." (link)
The memories and experiences contained within us serve many functions. Memories help us understand our experiences and keep us connected. Memories can positively bind that connectivity, moving us from avoidance to acceptance.
According to research by Hagman (1995), remembering is a primary way for our relationships to be sustained once a loved one dies. Memorializing our loved ones during the holidays can galvanize our relationships and move us to creativity and commitment around the things in our own life. Bluck and Mroz (2017) state that "there is the impact we experience in the death of a loved one, but the distinction of remembering those passed is also a fundamental component of human life."
Description
I wanted to share my experience with Douglas with his best friend, who, at the time, struggled with his grief. During our time together, Douglas had heightened senses, and I wanted to create a care package with his favorite things, from candles and incense to favorite candies, trips, and music.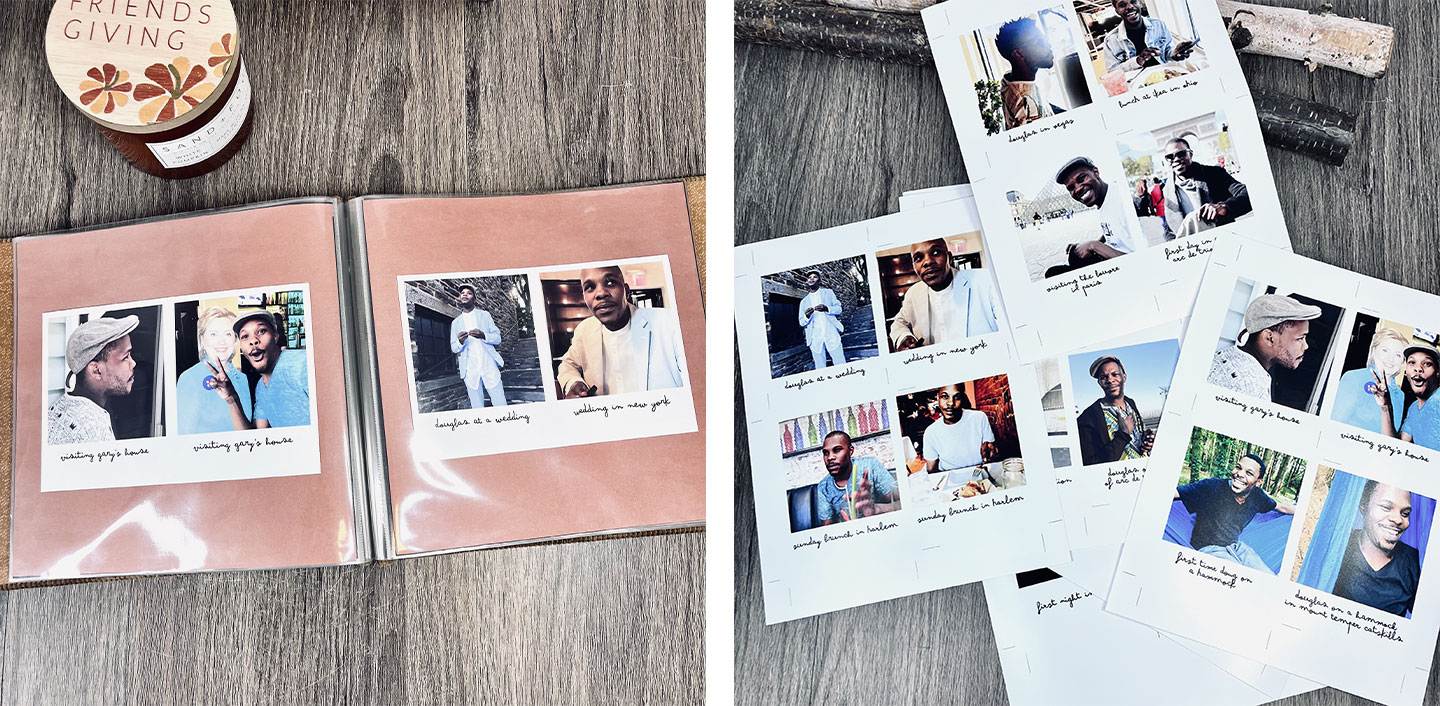 Visual
Douglas and I shared a lot of memories through travel and activities. I am like my dad, who used to take photos of us growing up. I wanted to share some of the best memories with his friend. After a rough year, putting together this scrapbook refreshed my memories and how grateful I was to have experienced so many new things with him. The year Doug passed, I found a scrapbook at Goodwill. I didn't know what to do with it and had intended to put some memorabilia for myself. But I thought sharing this with someone Doug cared about would be a better use for it. 
Taste
Douglas could name ingredients just by tasting them. We tried it a few times a home. He would share stories about how he learned to cook as a child after his mom was sick. At the time, he was too short to see the stovetop and would stand on a stool. Over time he taught his brother and sister how to cook as well. When we met, he always cooked the best meals for me, and I loved eating them. 
Since his passing, I have tried to eat his favorite foods to commemorate special occasions, and I also pick up sweets he used to eat and put them near his urn. Sadly I'd be eating those things, and now I'm trying to treat myself better and get less sweets. However, I wanted to share Doug's favorite snacks with his friend.
Scents
Doug always had incense burning, and we would burn candles over time. Certain scents bring back fond memories. I always get them at TJ Maxx, and Doug said I love a good discount. He especially loves the fall and pumpkin spice.
Sounds
I created a Spotify playlist shortly after I met Doug, put a few songs over time, and added a lot more after he passed. Each of the songs reminds me of the different moments we shared. 
Results and after thoughts
At first, I didn't know how to share my life experience with Douglas to his best friend, Rha-shid.  It took a few weeks to gather and prep everything, and the good times came back.